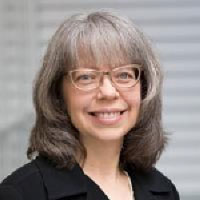 Natalie L. Adolphi, Ph.D.
Director, Center for Forensic Imaging, New Mexico Office of the Medical Investigator; Associate Professor of Biochemistry and Molecular Biology, Radiology and Pathology at the School of Medicine
Dr. Adolphi has served as the Director of the Center for Forensic Imaging since 2017, and is currently (2019-20) Chair of the International Society of Forensic Radiology and Imaging. Formally-trained in Physics (Magnetic Resonance) and Medical Physics, her current research is focused on the development and application of advanced imaging methods (MRI and CT) for medicolegal death investigation, funded by the National Institute of Justice. Additionally, Dr. Adolphi is a faculty member in Biochemistry and Molecular Biology and teaches Physical Biochemistry. Other recent research projects have focused on biomedical applications of nanotechnology, including magnetic particles for therapeutic applications and methods for improving the targeting of nanoparticles for diagnosis and therapy.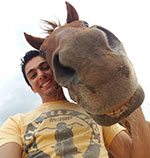 Hussein M.E. Al-Azzawi, MSEE
Network and Storage Specialist, UNM Center for Advanced Research Computing; XSEDE Campus Champion Lead
Hussein Al-Azzawi joined the UNM Center for Advanced Research Computing in 2014 as a Network and Storage Specialist. He received his MSEE from New Mexico State University in 2017, and M.Sc. in Network Security from DePaul University in 2009 and B.S. in Computer Information Systems in 2007 from Hashemite University. His research is focused on virtualizing parallel filesystems for high-performance computing systems.
Al-Azzawi has numerous and diverse duties designing, configuring, testing, troubleshooting, and maintaining the center's supercomputing system. In addition, he's currently working on an extensive list of projects and collaborations within CARC, the university, and with other researchers across the state and country.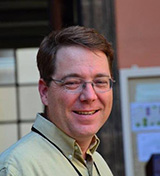 Prof. Patrick G. Bridges
Director, Center for Advanced Research Computing; Professor, Department of Computer Science; Special Assistant to the Vice President for Research for Research IT
Patrick Bridges is a Professor in the UNM Department of Computer Science and Director of the UNM Center for Advanced Research Computing. He joined UNM in 2003 after receiving his Ph.D. from the University of Arizona in 2002 and his B.S. from Mississippi State University in 1994. His research interests include system software, communication systems, and performance models for high performance and data intensive computing systems, as well as other large-scale parallel and distributed systems. As part of his research in this area, he has an extensive record of collaboration with partners at various U.S. national labs, including Sandia, Los Alamos, and Oak Ridge.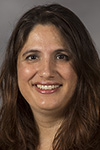 Shamsi Daneshvari Berry PhD
Dr. Shamsi Daneshvari Berry received her PhD in Biological Anthropology from the University of New Mexico in 2011. Her anthropological research has focused on estimation of body mass from the skeleton and how health can be inferred from weight. Dr. Berry completed a post-doctoral fellowship in Biomedical Informatics at the University of New Mexico. She specialized in data standards and minimum data sets for Anthropological and Informatics research. Dr. Berry also has extensive experience working with database creation and standardization. Currently Dr. Berry is an Assistant Professor of Health Informatics and Information Management at the University of Mississippi Medical Center (UMMC). She is also the Director of the Field School associated with excavations at UMMC.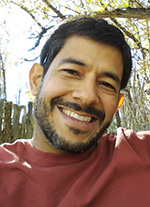 Ron Estrada
Ron Estrada is a Programmer Analyst with the University of New Mexico. Ron contributed to the development of the database and web site back-end. Ron hopes this project can inform the research community with innovative ways to bridge researcher's access to important scientific data and improved collaboration procedures with IT.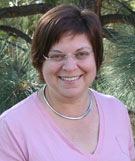 Heather J.H. Edgar, Ph.D.
Associate Professor, Anthropology
Forensic Anthropologist, Office of the Medical Investigator
Heather Edgar is a biocultural anthropologist interested in the way that culture and history shapes the biology of populations, especially in terms of admixture and health. Her research is focused on the U.S. and Mexico. Additionally, she has conducted research to improve the application of dental morphology to the estimation of bioaffinity in forensic cases, and has developed large-scale database for research and teaching. She has received funding for her work from the National Institute of Justice, National Institutes of Health, National Science Foundation, and the National Park Service.
Maxwell Museum of Anthropology Orthodontic Case File System: https://hsc.unm.edu/programs/ocfs/
Heritage New Mexico: http://heritagenm.unm.edu/
Faculty page: http://anthropology.unm.edu/people/faculty/profile/heather-j-h-edgar.html
Book: https://books.google.com/books/about/Dental_Morphology_for_Anthropology.html?id=LSLZDgAAQBAJ&printsec=frontcover&source=kp_read_button#v=onepage&q&f=false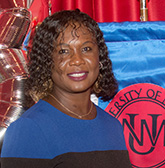 Grace L. Faustino
Project Manager III, Research IT Liaison, Office of the Vice President for Research
In addition to being the Project Manager for the NMDID Research Project, Grace Faustino is the IT Project Manager for the Office of the Vice President for Research (OVPR). Grace earned her Bachelors in Computer Science from NMSU and a Masters in Organizational Learning and Instructional Technology from the University of New Mexico. As the IT Project Manager Ms Faustino oversees internal and inter disciplinary IT projects for the OVPR. Additionally, part of her role as the Research IT Liaison on UNM's Research Technology Advisory Board, Ms Faustino supports the Director for Advanced Research Computing and Special Assistant to the Vice President for Research and oversees major research technology initiatives to support UNM's research activity.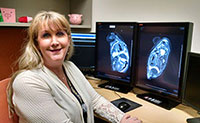 Kethery Haber
Supervisor of Forensic Imaging
Kethery Haber is a radiologic technologist with experience in radiology, computed tomography, mammography, interventional radiology, and MRI. She is the supervisor of forensic imaging at The Office of the Medical Investigator in Albuquerque, NM. She contributed to the database by performing the CT scans on a great deal of the subjects, and by providing valuable information on over 9000 scans. Kethery started her career in dental radiology, and then moved into medical radiology. She has been in the dental and medical field for 31 years.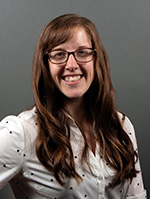 Emily Moes
Emily Moes is the graduate assistant for the NMDID, leading a team of students collecting lifestyle and health information for everyone included in this database. She is a student at the University of New Mexico in Evolutionary Anthropology. Her research focuses on intergenerational impacts of structural violence in Colonial Mexico. Broadly, she is interested in growth and development, and how juvenile remains can inform us about early life stress.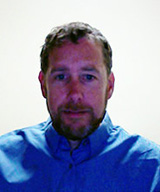 Erik Richert
Erik is a Senior Web Designer for UNM's College of Arts & Sciences. Erik focuses on front-end development and usabilty. Erik's contribution to the project is in the overall site development and planning focusing on the client-end design and processes.